How to Plant a Cut Flower Garden For Beginners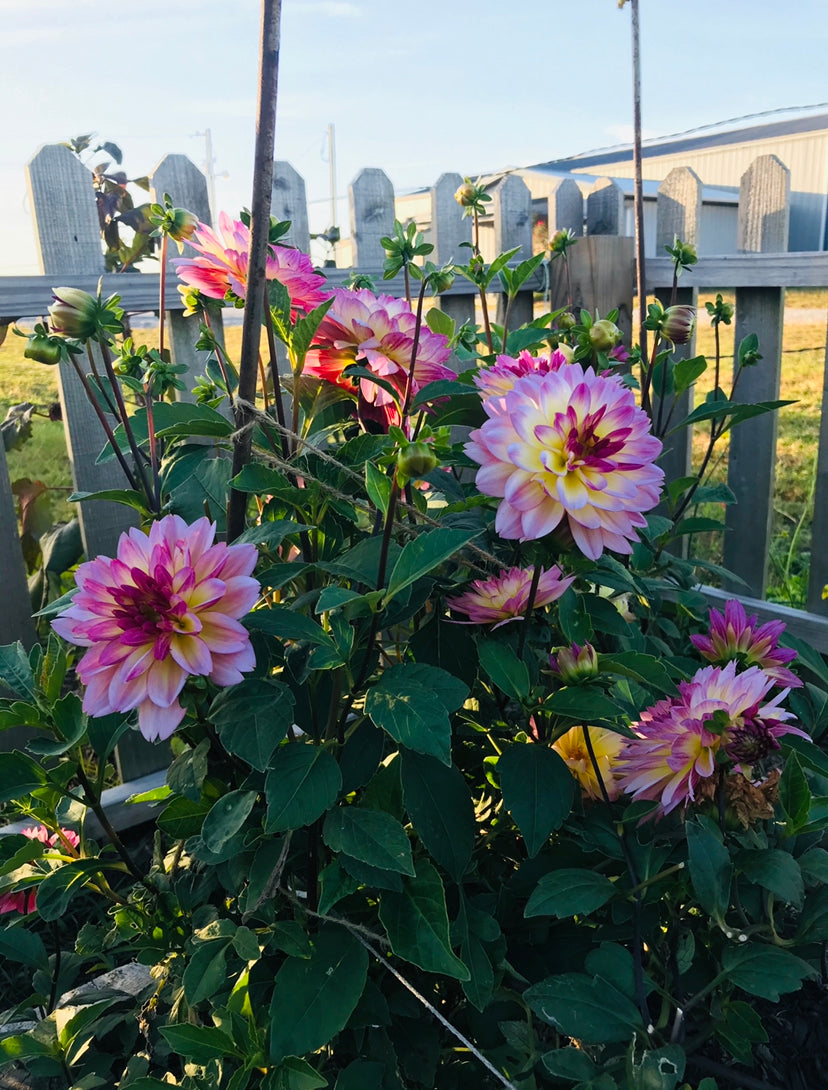 The idea of a cut flower garden is so exciting and dreamy. Growing and Picking flowers from your back yard to brighten your home just seems like the perfect combination. Planting a garden of any kind can also be overwhelming, especially for a beginner. When we started we didn't know much about growing flowers. We had planted vegetable gardens for years, but flowers just weren't our expertise. We have learned so much over the last few years that we have decided we need to share. This article highlights our tips for beginners that want to plant a cut flower garden of their own. 
Think About Space
The Beauty in growing flowers is that you really don't need a whole lot of space. You can grow in field rows, or smaller raised beds. Usually the type of flowers you want to grow play a part in deciding this. Later in this article we will specify which varieties should be planted in raised beds rather than in field planted rows. When I say field planted rows I mean seed or transplants that are planted directly into the ground, and organized into rows for easier cutting. Another "space" factor to consider is the space between each plant themselves. Some flowers can be planted as close together as a few inches, and others need a few feet. 
Prepare the Space
Now that you know where you are going to plant your garden, it is time to cultivate your growing area to create the best environment for your plants to flourish. Take a look at your soil. If it is light in color and dense in consistency, you may need to think about adding other soil and fertilizer to your mix. If your soil is dark and airy in texture, congratulations, you probably have a pretty good base already! Working the ground with a tiller is the next step we took. There are other preparation methods such as silage tarping and composting. You will also want to use some type of landscape fabric to keep weeds under control.
Deciding on Flowers
Now you are to the fun part, deciding what to plant. Make sure you look up what planting zone you are in to determine which varieties will do well in your area. Another thing to consider is that you need three components to make a beautiful bouquet: Focal flowers, filler flowers, and greenery. I have included varieties of each of these in the list below to give you an array of blooms to create beautiful bouquets for your home. Here are some relatively easy cut flowers to start with:
Zinnias

Sunflowers

Dahlias

Marigold

Amaranth

Celosia

Dill

Yarrow

Dusty Miller

Mint

Basil

Lemon Balm
Among these, we are partial to Dahlias. They put on beautiful large blooms from late July to Early October in our area (zone 6b).Although Dahlias don't last quite as long in a vase as some others, they are too dreamy to pass up, and relatively easy to grow once you get the hang of it. Check out our assortment of dahlia tubers on sale now , for spring planting. 
Check out SeedsNow for the other herbs and flower seeds in our list. They offer so many great and affordable seeds for starting your own cut flower garden.
Materials you will need
Here I have included materials you may need to get started:
Tool Belt or Apron

Sheers

Garden Tools (Rake, Hoe, etc.)

Buckets for Harvesting Flowers

Landscape Fabric

Spacing Template

Torch

Landscape fabric

Tiller or Silage Tarp

Stakes for Dahlias

Seeds and Tubers
Enjoy your Harvest
Now you have a basic outline of how to start your cut flower garden, and you can enjoy the fruits of your labor all season long with beautiful home grown flowers. We are excited to pass on these tips and help people that are beginners just like we were, grow something beautiful. We hope you have found this article useful, and be sure to check out our blog for more posts and tips on gardening, arranging, and more.